I read this morning in Ottawacitizen newspaper this new and I liked to share it with you.
Somehow, we can if we want, we just have to struggle.
A sweet think to all our sisters wearing proudly the Hijab.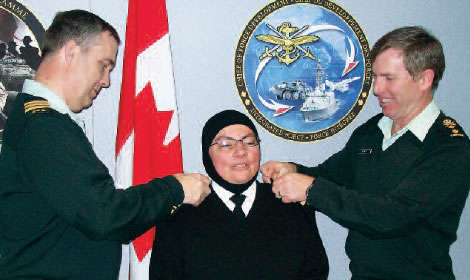 Ottawacitizen :
A tenacious spirit: The Lieutenant-Commander in a hijab
By Louisa Taylor
OTTAWA — Wafa Dabbagh is many things. She is a tiny, bubbly bundle of energy who loves Zumba fitness. She prays five times a day, keeps an immaculate home and bakes a cake for her beloved neighbours each weekend. She has a bachelor's degree, a master's in business administration and a cancer diagnosis, the last of which she treats like a bothersome cold.
Dabbagh is also a pioneer, the first member of the Canadian Armed Forces -- and still only one of a handful -- to wear a hijab, the Muslim headcovering for women.
After almost 15 years in the naval reserves, she is now a lieutenant-commander, the equivalent of a major in the army. Dabbagh is certified to shoot a C7 rifle and a 9 mm pistol, and is in the process of studying to qualify for promotion to a command position.
On Monday at Rideau Hall, Gov. Gen. David Johnston awarded the first Operational Service Medals to 50 recipients, including Dabbagh, who was recognized for her participation in Operation Proteus, a Canadian training mission in Jerusalem.
The medal recognizes those who completed non-combat overseas missions that involved a level of risk or intensity.
"I wasn't trying to prove anything or be the first at anything," says Dabbagh about her military career. "I wanted an adventure and I wanted a job."
That's the frame of mind Dabbagh was in when she wandered into an Armed Forces Recruiting Centre in Windsor.
A Palestinian born in Egypt, Dabbagh was raised in Kuwait and came to Montreal in 1990 at the age of 28.
Armed with a bachelor's degree from Kuwait, an MBA from the United States, fluent English and Arabic and functional French, she thought she'd find work easily. But the best she could do was a telemarketing job.
After she moved to Windsor in 1996 to be with her sister, Dabbagh went to the Canada Employment Office. When she had trouble getting into the building, she went next door, to the Armed Forces recruiting office. They told her how to get into the employment office, and she turned to go.
"But something made me turn back and say 'What do you have here?' " says Dabbagh. "They told me about the training I could get, the trades available, and I said 'Count me in.' "
After several hours of aptitude tests and a long interview with the senior officer at the recruiting centre, Dabbagh chose the naval reserves, knowing that the security clearance required for the regular forces would be lengthy because of her time spent abroad.
The topic of her faith, or the hijab, did not come up until a few days later, when she went to see the commanding officer of HMCS Hunter, the naval reserve division in Windsor.
"The commanding officer sat me down and said 'I don't know what to do with you,' " says Dabbagh. "He had called every branch of the forces and no one had a covered Muslim woman in their ranks. I told him, 'What you see is what you get, sir. I don't drink alcohol, I don't eat pork, but I can do everything else.' "
Dabbagh later learned other officers had advised him to talk her out of joining. "He told me that he'd said, 'If she wants to do it, she can stay.' "
Dabbagh left for basic training, where she stood out not just for the hijab, but for being much older than most of the teenage recruits. She did everything demanded of them -- the gruelling marching, the crawling through mud, the weapons training -- and was touched by what she calls the "many beautiful people" who went out of their way to be supportive. When Dabbagh asked to shower alone, after her female platoon-mates, she emerged to find that two of them had decided to stand guard outside the shower to keep latecomers from barging in. The cooks adapted meals so there would be pork-free dishes for her, and officers let her know when there was a 10-minute break coming up, so she could pray.
"One time, I moved away from the group to pray, and an officer came up to me, asking why I went away, and if somebody was bothering me," says Dabbagh. "I thought that was so sweet, and I explained to him it was the opposite, that prayer is a quiet, personal time for you and God, and everything was OK."
Dabbagh is used to charting her own course. She startled her family by putting on the hijab at age 15, becoming the first woman in her family to cover herself.
"They worried I was becoming narrow-minded, but for me it was about freedom to not be judged for my form, but for my personality and my actions."
After she passed basic training, an instructor confessed that when he heard a Muslim woman in a hijab was coming for training, he had said he didn't want her in his platoon.
"I had no idea you would smile so much," he told her.
By a quirk of bureaucracy -- and her own tenacious spirit -- Dabbagh did basic training three times. She wanted to enter the forces as an officer, but there were no openings, so she went in as a non-commissioned member. By the time Dabbagh completed basic training in St. Jean, Que., an officer position had opened up, so she immediately returned to re-do basic training, plus three extra weeks of officer training. Shortly before completing it, she fell from the top of the cargo net, cracking a rib and fracturing her pelvis.
After three months of recovery, she went back and did the officer training from the beginning. That's when her own family finally accepted her military life was for real, says Dabbagh.
Thus began several years of juggling civilian life -- where she continued with telemarketing, and later weather observation at the airport -- with adventures in the naval reserve. In 2006, Dabbagh took a job with the forces, training naval cadets, and she has worked with the military ever since. In 2007, she joined Operation Proteus, a small mission to Jerusalem where Canadian military personnel were helping to train Palestinian security forces, a role that made the most of her background and fluent Arabic. For the past two years, Dabbagh has been co-ordinator of the Ottawabased Future Security Analysis Directorate.
"She is a warm-hearted person, but she is also an officer who knows when to be tough," says her boss, Lt.-Col. Stefan Kostner, the unit's deputy director.
Aside from the hijab, Dabbagh's uniform varies only slightly from standard-issue. She wears a longer skirt and the shirt she wears day-today is a maternity smock, as the navy shirt was too form-fitting.
Although she didn't set out to be a pioneer, Dabbagh quickly realized that her new life came with a price: scrutiny. Upon learning she was in training for the Nijmegen March -- a four-day annual event in Holland -- an officer told Dabbagh "The admiral will want to know that!"
"Why would an admiral care if a lowly sub-lieutenant is going on this march?" she asked, only to be told "Wafa, everything you do, people want to know about it."
"I have felt like I was under the microscope a lot, and was always asking myself, 'How will that look?' You try to be yourself and do your best, but you wonder, if I make mistakes, will it be seen as representing all Muslims?"
Still, she is proud to have cleared the way for other women who want to wear the hijab and serve in the military.
"It takes somebody to do something in front of you, to know we can do everything everyone else does -- we just do it covered," says Dabbagh.
She treasures the experiences she has had -- whether it's translating for her commanding officer in Jerusalem, or standing on the bridge of a ship in the middle of the night, when the moonbeams dance across the water.
"I want the Muslim community to know the door is open for them in the Forces. My experience has been 95-per-cent positive, and if I can do it, they can do it," says Dabbagh. "And I want other Canadians to know that there are people serving Canada who are not white with blond hair and blue eyes. We are all working together, white, black, Asian, Arab, aboriginal -- and I'm one small face among them."
Earlier this year, Dabbagh was about to leave for a United Nations military observer mission in Sudan, when a routine X-ray found a spot on her lungs: cancer. She has since been doing chemotherapy and radiation while holding down her office job, and baking for her neighbours, most of whom are military families.
Never married, Dabbagh considers her neighbours her family. They recently returned her generosity by covering her entire house in Christmas lights and installing an inflatable Christmas scene on her lawn while she was out of town.
"I wish them Merry Christmas, they say, 'Happy Ramadan.' It's very sweet."

*-*-*-*-*-*-*-*-*-*-*-*-*-*-*-*-*-*-*
Proud to be canadian
وَمِنْ آَيَاتِهِ خَلْقُ السَّمَاوَاتِ وَالْأَرْضِ وَاخْتِلَافُ أَلْسِنَتِكُمْ
وَأَلْوَانِكُمْ إِنَّ فِي ذَلِكَ لَآَيَاتٍ لِلْعَالِمِينَ'' الروم:22''


kabi




Nombre de messages

: 3183


Age

: 46


Résidence

: New-Brunswick


Statut

: Citoyen canadien


Date d'inscription :

18/05/2005



Thank you dear Abdelkader

by sharing this article with us you give us a proof that Muslims can do good things for Canada and Islam without any problem if they respect them self.

A beautiful example of integration in Canada.

rashid laâlaoui




Nombre de messages

: 173


Age

: 46


Résidence

: Casablanca


Emploi

: Directeur Artistique


Date d'inscription :

12/12/2009



M.e.A a écrit:Thank you dear Abdelkader

by sharing this article with us you give us a proof that Muslims can do good things for Canada and Islam without any problem if they respect them self.

A beautiful example of integration in Canada.
I wonder how would she be wearing hijab while being engaged against people from the muslim world!?
Military sercvice is clear ... imagine her under directions of the coalition forces in irak or any other muslim county ... i don't think she would be happy to be muslim in that particular case.

adil1985




Nombre de messages

: 368


Age

: 33


Date d'inscription :

15/02/2007



Thanks for sharing, kabi. This is a beautiful example of integration.

saraya




Nombre de messages

: 1869


Résidence

: Canada


Date d'inscription :

21/10/2008




Thanks guys !

Indeed MEA and saraya, muslims are able to make changes if only they could have a chance, life teach people to struggle hard before enjoying what they deserve. During this decade Muslims has to have an iron will to succeed, and here is the result.

Well for the question of ''being engaged against people from the muslim world!?'' it's clear that's an awkward situation, however as she is a ''première" in such position why not create a new ''première'' in military world where a woman wearing hijab said NO for killing people, and rather killing people, she would build schools in this Arabic-muslim country, help in supplying water drinkable, teach child, etc.... on one word she could answer '' I prefer to bring life rather than kill people'' .

Yesterday there was the first muslim as mayor in Calgary, Naheed Nenshi:
http://erableatlas.superforum.fr/dossiers-anglophones-f4/calgarys-naheed-nenshi-becomes-canadas-first-muslim-mayor-t20593.htm?highlight=calgary
today wafa Debbagh is the first muslim wearing hijab as a lieutenant-commander in the Canadian Armed Forces, tomorrow there will be many Naheed Nenshi and many Waffa Debbagh …

Remember that: believe on yourself because no one will do it for you !

As a wise man once said : Sky is the limit !!!

*-*-*-*-*-*-*-*-*-*-*-*-*-*-*-*-*-*-*
Proud to be canadian
وَمِنْ آَيَاتِهِ خَلْقُ السَّمَاوَاتِ وَالْأَرْضِ وَاخْتِلَافُ أَلْسِنَتِكُمْ
وَأَلْوَانِكُمْ إِنَّ فِي ذَلِكَ لَآَيَاتٍ لِلْعَالِمِينَ'' الروم:22''


kabi




Nombre de messages

: 3183


Age

: 46


Résidence

: New-Brunswick


Statut

: Citoyen canadien


Date d'inscription :

18/05/2005



Hello kabi,
I'm glad you posted this topic. Yes, I do believe in myself, because noone will do it for me. Sky really is the limit when you believe in yourself.
Let me tell you something: yesterday, a colleague who studies with me at the university (he's muslim) was talking about going to Morocco for good
(it's his wife's country) because he hates Canada (but he is canadian!). Well, I said that I like Canada but he did not accept it, so he told me that I would never be considered a Canadian because I wear the veil. I was really upset because I do feel canadian even before getting the citizenship. According to this person, I am telling lies because he thinks that everyone hates Canada like he does, the only problem is that they do not want to show it. I was really surprised, because I would never have imagined a muslim saying such things about the veil, although he knows that it is compulsory in our religion. If someone doesn't like Canada or does not feel at ease here, I have to respect his or her opinion. But if someone (like me) likes it and feels at home in Canada you have to respect his or her opinion. As far as I am concerned, I am telling the truth: I do feel at home in Canada and I do feel canadian. I have been in Canada for 3 years and so far, I have never met any problem with my veil.
Thanks.


saraya




Nombre de messages

: 1869


Résidence

: Canada


Date d'inscription :

21/10/2008



---
Permission de ce forum:
Vous
ne pouvez pas
répondre aux sujets dans ce forum